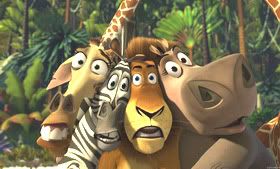 Melman the Giraffe (David Schwimmer)
Marty the Zebra (Chris Rock)
Alex the Lion (Ben Stiller)
Gloria the Hippo (Jada Pinkett Smith)
Madagascar
really rocked last night! It was hilarious! It was one movie that children will really understand. I mean there are some animated films produced which I doubt the kid viewers really understand. Madagascar's plot was kept simple yet very funny. It was laugh trip throughout the movie. Marty the Zebra got tired of his life in the zoo and escaped with some penguins. His bestfriend Alex the Lion, together with the giraffe and hippo all set out to find Marty. Forsome reason, the animals got thrown off the shores of Madagascar where their adventures as
wild
animals started.
What's funnier for me is that I just read
Life of Pi
, a serious book wherein a bengal tiger in a fight for survival began eating fellow animals aboard the lifeboat. It was in my mind while watching
Madagascar
last night. The animation all trivialized the gross fact that lions are a beastly lot, in fact, the king of the jungle! It will eat fresh meat, and must not supposedly hesitate to devour his bestfriend zebra to satisfy his hunger. But being an animation, the lion had a heart of course and found it difficult to kill his bestfriend. It was comedy with personified animals, and thus Alex the Lion became the most loveable and adoring beast. The viewers' hearts probably all went out to him.
Life of Pi
on one hand,
Madagascar
on another. Sometimes it's a matter of how one relays a story. Just one fact -- Beasts kill. The manner of storytelling just made all the difference. It was what was filling my mind the whole time last night. =)
Madagascar
is for everyone! Watch it! The humor, the graphics, the voice overs, the story! Hehe, basta I like. =)